Billy Bingo: Sexual Blackmail
Submitted by sayatan on Sat, 06/04/2011 - 13:44
Billy Bingo: Sexual Blackmail
Content not suitable for younger readers or people who are easily offended.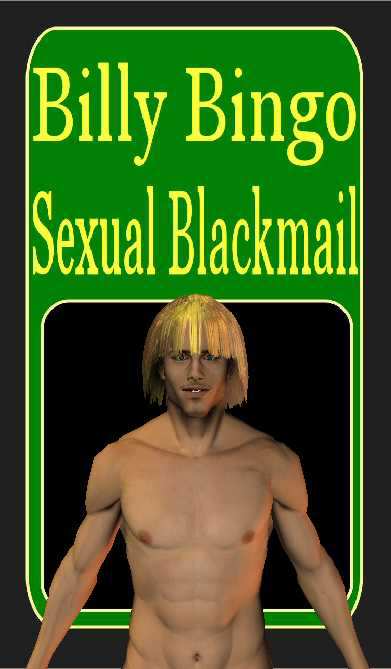 Product Description
Billy Bingo: Sexual Blackmail includes:
Novella: Billy Bingo: Sexual Blackmail
Short Story: Sexual Blackmail: Day At The Beach
Short Story: Sexual Blackmail: Mystery of the Music Box
Short Story: Sexual Blackmail: Devil's View
The stories do contain strong sexual content of both a straight and gay nature. These stories are fiction.
This book is followed by Billy Bingo: The Videotape Murder which includes Billy Bingo: Sexual Blackmail as well Billy Bingo: The Forgotten Past
99cents, what a deal!!!
Sample Chapter One:
Chapter One
Mary Aghar manages the household of the rich Jenkins family. Her daughter Rachel jokingly calls her a maid. That term mainly pisses her off because there is some truth to it but she is a very well paid maid.
The first time Mary Aghar laid eyes on 17 year old George Destone, she knew he was trouble. Watching him on a study date with her daughter Rachel and Rachel's friend Bess Bingo, Mary considered how she might get rid of George and keep him away from her daughter.
Mary is in the kitchen trying to take her mind off George hanging around the girls when here he comes walking up next to her standing at the stove. "I saw you watching me," he tells her. "You don't much like me near your daughter but still you want me near you, don't you."
"Conceited assholes don't impress me. Get over yourself." Mary likes the sound of her words though in truth she does feel a disturbing attraction to George.
"How long has it been since you have had sex?" George ask.
Mary stares at George. "Maybe too long," she says. He is just seventeen but in Georgia he is of legal age. She licks her lips. She calls to her daughter, "Honey, I need some things from the grocery store. Can you and your friend Bess be dears and go shopping for me?
Rachel comes into the kitchen to get the grocery list. She stares at George with an expression that reveals an extreme dislike. Bess follows after Rachel and takes George by the hand. "Sure Ms. Aghar. George, you want to come with us to the store?"
Mary quickly states, "No. George is going to help me with the garbage disposal." She then hands Rachel an old grocery list that she hasn't thrown away.
Talking about Bess' brother Billy sneaking out at night, Rachel and Bess look for their pocketbooks. George hears Bess say, "Sometimes it is like my little brother is channeling the ghost of a James Dean character or something." Bess laughs as she picks up her pocketbook. "I blame Billy's behavior on him hanging around with that Harris family."
Rachel finds her pocketbook. "I think Clarice Harris has a crush on Hutch Cassidy."
"Oh my God!" Bess closes the door as she and Rachel step out on the porch.
Mary grabs George by the arm and quickly escorts George back to her bedroom. "Let's see if you are man enough for a real woman." George watches as Mary quickly gets naked.
They hear the front door to the house open. Rachel screams, "Mom, do you know where ... oh, never mind. I found it." They hear the front door close.
George laughs as he looks around Mary's bedroom. "Someone really likes the sex." He stares up at the mirrored ceiling. He examines the dildos and other phallic toys, body oils, scented candles and a hot-tub right there in the bedroom.
Mary picks up a vibrator and rubs her fingers over it. "To me you are just another sex toy."
George starts taking off his clothes. "That suits me just fine." George takes the vibrator and with an insulting look puts it down on the table. George quickly gets undressed.
Boldly, proudly George stands naked in front of Mary as she picks up a long feather. He tries not to laugh as she tickles him with the feather. Then she grabs him by the balls as she kisses him on the neck. "You aren't hard yet."
George sticks out and flicks his tongue. He grabs Mary and kisses her on the breast. He feels the shiver run through her body. He drops to his knees and starts to suck on her pussy. She moans as she pulls on his ears and begins to hump at his face. Then Mary jumps into her bed. She motions with her finger calling for him to climb into the bed with her. George gets on the bed and crawls doggie style toward Mary. She pulls a vibrator shaped like a penis from her bed stand and George stops in his tracks.
"I don't know about that," he tells her.
"I've seen you standing outside that gay biker bar with your friends," she informs him.
George swallows hard as he takes a gulp of air. "I don't know what you are talking about."
"I might drive the girls, Rachel and Bess, by there some time when they might see you."
George starts to back off the bed. Mary throws the vibrator at George and giggles. "Just kidding. You silly boy. The vibrator is for me."
George picks up the vibrator and turns it on. He again starts crawling into the bed. He lays on his side next to Mary. He places the buzzing vibrator "penis" next to her pussy as he kisses her on the neck and then he kisses her naked breast. She reaches over and massages his cock. She whispers in his ear, "You do know what I am talking about. I am not mistaken about seeing you." She touches his face. "I've been with women before. There is no reason to for you to be ashamed."
George smiles. "Just because you've seen me at the bar doesn't mean I have sex with men. Good drinks. Good music."
"Have you ever taken Bess there?" Mary mocks, "You know, for the good drinks and the good music."
"So you weren't kidding. You are threatening to have Bess see me there."
"I don't want you to hurt that girl. I don't want you to hurt her."
George shakes his head. "I might take her there. Trading kisses for drinks; that is all we do there and she wouldn't even find that out." George tosses the vibrator aside and climbs on top of Mary. He holds her arms down as he roughly kisses her. He rubs his only slightly hard cock against her pussy.
Quickly, George discovers that Mary is stronger than he thought. She takes control and rolls over so that it is now him beneath her. She moves down and puts his cock in her mouth. While she is sucking on his dick he moans and closes his eyes. She wonders who he is imagining as she works on his cock: man or woman. While he is lost in imagination she grabs the vibrator and with her mouth on his cock, she shoves the vibrator up his ass. He opens his eyes and screams, "Stop." He starts to pull the vibrator from his ass but then he feels a bit of of tooth against his cock. He stops. Still, she pulls the vibrator from his ass and he smiles. She now licks on his cock. He moans. Then she shoves the vibrator back into his ass. He screams as if in displeasure but his cock tells a different tale. He has grown much harder than he was. Mary slowly fucks George with the vibrator while sucking on his cock. She looks up to see George smiling. She places his hand on the vibrator and he now moves the vibrator in and out of his own ass. She crawls up and slides George's rock hard, throbbing, wet cock in to her pussy. George can't believe how fast and furious she is riding his cock. He can't believe the energy of this older woman who rides his cock for a good 30 minutes. As she starts to feel his cock twitch, she jumps off. George's cum shoots all the way up to his own lips.
Mary takes her finger and wipes some of the cum into his mouth just as she hears Rachel scream, "I'm back. Bess' mother called and I took her home."
Mary hollers back to her daughter. "George was running late for something or the other and left."
"Good!" Rachel yells. "I can't stand that pretentious creep."
George grins as he gets out of bed and starts getting dressed. He whispers, "I will slip out the back way."
Mary nods, "You do that. Just never try to slip in the back way without asking first."
George nods. "Oh, I will be asking." Then he stops and thinks a moment. "No, I won't. You didn't ask before slipping that vibrator in, uh, my back wa... ass."
"You enjoyed it."
_____
David Jenkins is Mary Aghar's boss. He is widowed and has one son that he guesses is his son, Dirk Jenkins. While dating a woman by the name of Jackie he is also seeing a young man by the name of Hutch. He is much more secretive with his relationship with Hutch because some of his business associates are homophobes and with David, business does come first.
Hutch runs with something of a tough crowd though David thinks Hutch does have a future. David met Hutch at a gay biker bar hustling drinks for kisses. The game was blackjack. Win and Hutch would give the victor a kiss with full tongue. Lose to Hutch and he would get a free drink. Hutch had something of a buzz on when he left George Destone and Ralph Shath still playing the game with tough bikers. Hutch staggered up next to David who was sitting all alone.
"You look totally out of place in here," Hutch slightly slurred his words. He then picked up David's drink and tossed it back in a gulp. "I smell money," Hutch mumbled to himself.
David stared at the young man who had interrupted his feeling sorry for himself and crying into his drink. "You are handsome. I bet you are also skilled."
Hutch smiled. "Yeah, I am a quick learner. I bet you could teach me some things. I can be a hard worker."
"Yeah, hard. I might could give you a job." David touched Hutch's face. "You know, there is more than one kind of job."
Hutch said, "I am interested. So you want to blow this joint and go somewhere to discuss job opportunities." Hutch was hoping for a desk job from this nice looking man in a suit.
"Hard worker. Job opportunities," in a mocking voice a biker standing next to them said with a laugh. Then the biker told David, "Trailer #7 isn't being used out back. Give the bartender $25 and he will give you a key."
David threw the money on the bar, which the bartender quickly grabbed up. He handed David a key to a camper parked among several behind the bar. Hutch stared at the key in David's hand. He glanced at the bartender as he took a deep breath. He turned toward his buddies, George and Ralph, who he didn't really think of as friends. Then he looked into the face of David Jenkins. Hutch had never hustled more than kisses before. He couldn't believe he was considering going to the trailer with the man he had never met before this night. Hutch stood up and was no longer feeling a buzz but nervous butterflies.
David and Hutch both looked around as they went out the side door and into the dark. Still, even looking around, they didn't take notice that George and Ralph had took notice of them. It felt eerie to David and Hutch as they stumbled their way into the dark and some fog and toward the lighted trailer that was seventh down on the row.
David had trouble with the lock and Hutch took the key from his shaking hand. It made Hutch feel good to know that he was not the only one afraid. He felt a sense of confidence as he unlocked the door to the trailer that was decorated with only one large bed in the master bedroom area. David took the key from Hutch and closed the door behind them. Looking at Hutch as he put the key in his pants pocket he felt his hard cock and thought it was a strange sensation to be about to have sex with a man. This was the first time he'd had sex since he had lost his wife in childbirth. It had been a long time since he had been with anyone.
Hutch took his shirt off and rubbed his muscular chest. Staring at the handsome young man in front of him David said, "I guess we should discuss money."
Hutch shook his head. "No." He then kicked off his shoes. "No. I don't want to feel like a whore."
David smiled. It was sort of a sad smile. David wanted this to be meaningless sex. He didn't want to ever fall in love again. He didn't want to feel the pain of losing the person that he loved with all his being.
Hutch said, "I've never done this before. Not with a man. Not with a woman."
"Your first time. My first time was with my wife. God, I loved Amberline Darko. She was my world. She died."
"I am sorry."
"I was gentle with her but she didn't really want me to be gentle."
Hutch repeated, "This is my first time." He said, "Gentle would be okay with me."
David and Hutch walked back to the master bedroom area. David said, "This trailer is kind of warm." David turned a fan on. He turned the twister arms to open the three air vents in the ceiling above the bed. David watched Hutch finish undressing. He then started removing his own clothes. "I've been watching some gay porn. When I went into the gay bar I wasn't really looking for someone with whom to be gentle."
Hutch began to play with himself, fondling his cock and balls. "What were you looking for?"
"I don't know. It doesn't matter. You aren't what I pictured though." Naked David walked up to Hutch and took him in his arms. "I think I like better what I found than what I was in search." David kissed Hutch on the lips. Then with a roughness in his voice David said, "Get down on your knees. I want to fuck you in the mouth."
Hutch was confused by the contradiction of the gentle kiss followed by the rough command. He backed away from David as David walked toward him. David grabbed him by the hair of his head. David said, "You want this to be like eating supper or taking a piss. You want nothing to separate it from any different event in your life. You want it to be dull, painless, and maybe easily forgotten." David pulled Hutch up into his face. "I thought I wanted this to be the end of my fantasy but now I think I want it to be the beginning of something else. Now get down on your knees." David screams at the top of his lungs, "Now!"
Hutch dropped down on his knees. David slapped his cock around Hutch's mouth as it grew harder. He bounced the tip of his cock on and off of Hutch's nose.
Neither David nor Hutch heard George and Ralph moving ladders to the camper. They didn't hear them climb to position camera's down through the air vents to get video.
"Open your mouth," David commanded Hutch. David stuck his fingers into Hutch's mouth. He pushed his fingers in and out of Hutch's mouth as though he were fucking him with his fingers. Then suddenly, he shoved his large, hard cock into Hutch's mouth. His cock touched the back of Hutch's throat. David pumped his cock in and out Hutch's mouth while George and Ralph videotaped it all. David caused Hutch to gag more than once and then David's cock started to pulse and twitch as David shot a load of hot sperm into Hutch's mouth.
Slobbering and spitting the sperm from his mouth, Hutch stood up. "Yeah. I will remember that. Now let me give you something to remember." Hutch shoved David down on the bed. Then Hutch jumped on top of him to begin rubbing his cock between David's ass cheeks. "I am going to fuck you like you will never forget."
David flipped Hutch over on his back and laughed. He began causing Hutch to laugh by tickling him. "Oh yeah, you are ticklish." Then David kissed Hutch on his neck and then his mouth and then his nipple. "You may fuck me in the ass but it will not be tonight."
David stood up and began to get dressed. He pulled a business card from his jacket as well as three one hundred dollar bills. He tossed them to Hutch. "Call me."
Ten year old Billy Bingo, who looked much older than his age, was taking a short cut through the woods and which took him behind the bar and the trailers. He saw George Destone who was his sister's boyfriend on the ladder and with the camera over the trailer's vent. Billy mumbled to himself, "God, I hate that bastard."